California Tenant Protection Act of 2019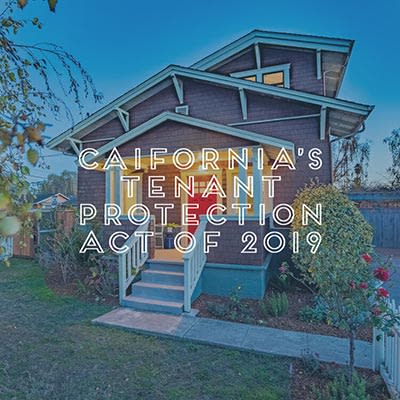 California's state assembly recently passed Ab-1482 to help address the housing crisis. AB – 1482 limits the amount rent can be increased starting January 1st, 2020 and is expected to remain in effect until January 1st, 2030.
Here is what you need to know about it:
In a 12 month period, owners cannot increase the gross rental rate for a unit more than 5% plus the percentage change in the cost of living or 10% whichever is lower.
If owners did not increase rent by the allowed rent between March 15, 2019 and January 1, 2020 they will be allowed to raise the rental rate twice within 12 months of March 15, 2019. The amount cannot exceed the maximum allowed.
If an owner increased the rent more than the allowed amount between March 15, 2019 and January 1, 2020 the rent on January 1st will be based on the rental amount from March 15th, 2019 plus the maximum allowed by law. The owner will not be held responsible for any overpayment on rent to the tenant.
It does not apply to housing that is also subject to local rent control that restricts annual increases to an amount less than what is stated in AB – 1482.
If owners share a single-family or duplex with tenants they are exempt from the rent caps.
If a tenant has lawfully occupied a property for 12 consecutive months an owner cannot terminate the tenancy without just cause.
To view more info about this bill click here. You can also download a copy of this information here.
Being your trusted advisor is a privilege. That's why I do business in person from start to finish.
1108 Mission Street, Santa Cruz, CA 95060