What to Expect from Luxury Santa Cruz Real Estate in 2022
Most of the world was glad to say goodbye to 2021, a year full of circumstances like we have never witnessed before — and that's after we got through 2020. The events of the last few years have changed how many of us choose to live our lives and, more importantly, where we choose to live our lives. The "where" is a factor that has shown a major influence on the real estate market, and the luxury real estate market was not immune to these changes. Low inventory, price increases, and the ongoing pandemic created the perfect storm for a hot real estate market leading to historic highs in selling prices and overall sales activity.
Will the market remain as active in 2022? Forecasting in 2022 is complicated, to say the least. The pandemic continues to be unpredictable, the Federal Reserve has adjusted interest rates, and people are changing their lifestyles. We cannot know what we do not know, but there are a few key trends in the West Cliff Santa Cruz real estate market to keep your eye on for the rest of 2022.
Inventory continues to be limited
Inventory directly drives the prices of homes and adds tremendous frustration for potential buyers searching for a home when there are not many choices. Currently, the existing inventory for home sales is super limited for a few reasons.
Potential sellers have refinanced over the previous years and are currently locked into a good rate. Selling now may give them access to an even lower rate, but it will also mean a potential large capital gains tax due to the increase in home prices. Once the sale is finalized, they will have a significant tax bill decreasing the bottom line from the deal, and chances are there will be higher taxes on any new property purchased, further decreasing the incentive to sell their existing property. There may be some relief for a select set of buyers with new legislation under California's Proposition 19, but it is limited. Potential sellers in California do not have enough incentive to list their homes, therefore impacting the existing inventory available to buyers.
Factor in that many buyers have an increased desire to have a second home, and you only compound the inventory shortage. Since the start of the pandemic in 2020, we have witnessed people scrambling to gain more space, often with acreage or large outdoor spaces. With container ships stuck in the ocean and truck driver shortages across the United States, new builds have slowed down, further impacting available inventory. Profit-minded sellers may provide some relief to inventory constraints. However, people will continue to want a second or larger and more luxurious home in an ideal location like West Cliff Santa Cruz with wide-open views, beaches, and many nearby activities.
An increase of wealth and second home purchases further restricts inventory
Historic wealth growth from a well-performing stock market, cryptocurrency gains, and an increase in savings make owning a second home a viable option for many. People have access to large sums of money, creating opportunities to easily find buyers searching for homes in the $2 million dollar range. The desire to have either a second home or a more luxurious home has driven prices way up. This has basically caused every home in Santa Cruz to be considered a luxury home. Even the purchase of a family home could cost buyers over $1 million dollars. It is a time when not everyone will be able to purchase a home, only those with access to wealth, possibly leading to extreme gentrification of the area.
Having a second home has become a necessity for some families. Lifestyle changes brought on by the pandemic have caused a major increase in demand in the luxury real estate market. Remote working has become normal for many people, and having access to a second home gives buyers the option to work from multiple locations depending on their lifestyle choice at that time. Spending a few weeks in a city condo or flat and then transitioning to a home in the West Cliff Santa Cruz location provides a wide range of activities in a comfortable and safe environment. People want amenities and activities close to their homes — such as biking, hiking, skiing, golfing, and beaches.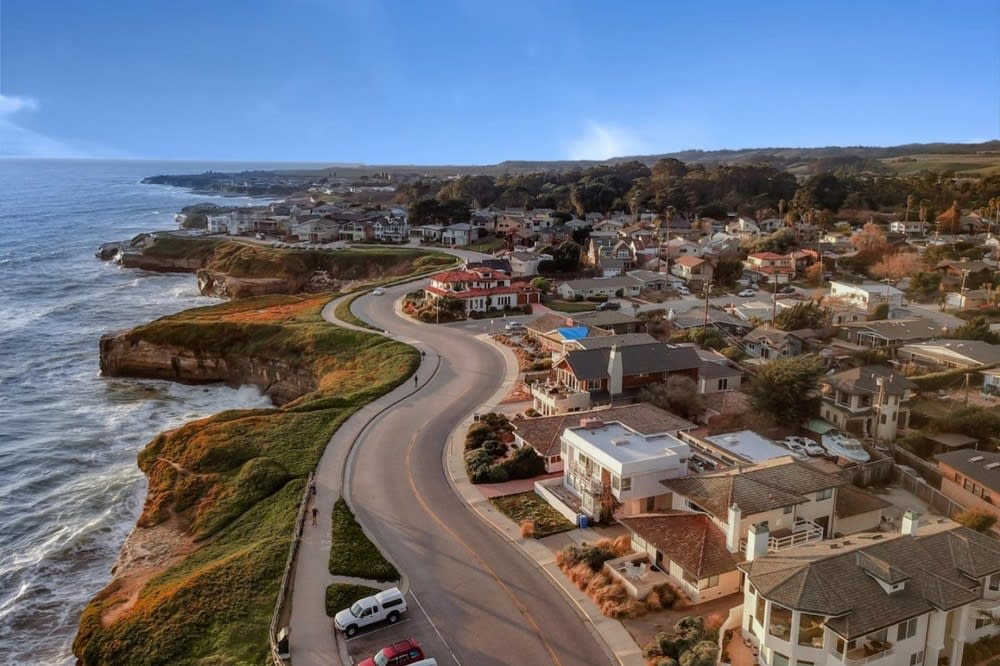 West Cliff Santa Cruz, Image courtesy of Redfin
Buyers want turnkey properties, and some sellers are not prepared
Labor and supply shortages have created bidding wars for properties that are turnkey, making it imperative to have a great realtor in Santa Cruz. Having to use an outdated kitchen or live in a home that does not fit the family's style does not sound ideal to anyone. Issues associated with getting supplies like lumber, paint, flooring, and concrete only compound the desire for buyers to purchase a move-in-ready home.
Properties that are updated and ready to move in are most appealing to buyers and therefore generate more activity for sellers. However, some sellers have put off updates and are not prepared to list their homes. Compass Concierge can help get your home ready for listing by utilizing their network of contractors that give them first priority because of their long-standing relationships. If you are short on cash, they will give you interest-free money to complete a remodeling project that will be paid back in escrow upon the final sale of the home.
Finding your perfect luxury property may be difficult
Real estate agents have witnessed the list of wants to turn into must-haves with today's buyers. In the luxury market, there are certain design elements that a realtor in Santa Cruz has found buyers require as must-haves when searching for a new home. Having a large outdoor space is a primary focus for many buyers. Knowing the world will continue to live with COVID-19 means needing access to our own private outdoor space to keep active and maintain safety. Outdoor spaces with a chef kitchen, pools, hot tubs, and views are all in high demand. Acreage and gardens to promote the feeling of space and nature also represent the desires of today's buyers. Since everyone is doing more at home, access to a home gym, a dedicated office space with updated technology, and a home theater system are must-haves to many buyers.
Inventory constrictions and labor shortages will continue to make it difficult for buyers to find their dream home with all of their must-haves already in place, especially in the luxury market. Securing the best realtors may help you to gain access to homes that may not even be listed yet. Closely reviewing your list of wants and needs may help open up opportunities for homes that are not an exact match but may work for you and your family. Your realtor and/or designer will be able to guide you through areas of a home that could easily be updated to match your desires. 
What can you do?
As mentioned in the introduction of this article, you cannot know what you do not know, and that statement holds true for how you should manage the buying or selling of your home. Go with what you know right now. We have no way to predict what will happen in the future with the unprecedented times we are currently living in. There is volatility in the markets and in our lives. If you want to make a change, use what you know right now to decide, as we have no way of knowing what 2023 and beyond will have in store for us. You do have information that will allow you to make an informed decision. You know what your tax liability is going to be, what existing supply chain issues are happening right now, and what the current interest rates are.
Really prioritize: If you are thinking of selling your home in Santa Cruz, list your five reasons, then ask yourself: would you rather be here in your current home, or would you rather be somewhere new?
Buying or selling luxury Santa Cruz real estate?
Are you planning to buy or sell luxury real estate in 2022? When looking for an experienced partner with deep knowledge of the Santa Cruz area, get in touch with Sam Bird-Robinson.
Being your trusted advisor is a privilege. That's why I do business in person from start to finish.
1108 Mission Street, Santa Cruz, CA 95060