1% For Good – Vista Center
During each quarter of the year, Sereno Group's Coastal Offices in Santa Cruz and Aptos choose two recipients to receive a grant from Sereno's 1% for Good Charitable Foundation. Each agent has the opportunity to donate 1% of their commissions to the 1% for Good Program which means that it is 100% agent funded. Since 2012, Sereno agents across the Bay Area have donated over $2,148,723 to local organizations!
I am excited to announce the second recipient for this quarter, . With two locations in Palo Alto and Santa Cruz, they go above and beyond to support and enrich the lives of adults and youth who are blind or visually impaired.
Programs and services include:
Living with Low Vision Classes – This class gives visually impaired people and their families a chance to discuss their situation, learn about the equipment available to help them, teaches them how to navigate life outside of their home, and provides a platform to connect with others in a similar situation, which helps ease anxiety and depression.
​​​​​​​Support Groups – Adjusting to the loss of vision is extremely challenging, which is why Vista Center offers monthly support groups. Located in both San Mateo and Santa Clara counties, groups are run by experienced counselors. Spanish speaking support groups are also available.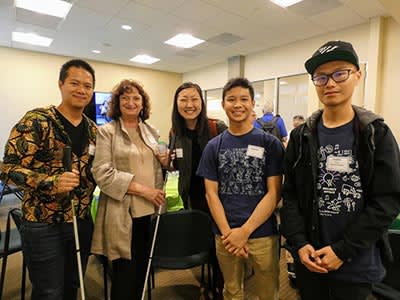 Orientation & Mobility Consultation – When you are blind or visually impaired, day to day tasks like crossing the street or riding a bus are difficult, and the Vista Center understands that. They offer one-on-one training to help people learn new skills, provide training on how to use equipment designed to help them, teach them how to cross a street safely, and much more.
​​​​​​​Daily Living Skills – Another one-on-one consultation, daily living skills takes place with one of Vista Center's rehabilitation teachers. The teachers offer tips, instructions, and modifications to help people succeed in their daily lives. These classes cover things like shopping, food preparation, personal care, record keeping, money management and much more.
Assistive Technology – With technology rapidly changing and improving, Vista Center offers a course designed to highlight the best technological tools available.
School Programs – Vista Center also partners with local schools to assist and offer the same programs mentioned above to visually impaired or blind students.
Youth Programs – Along with the same programs offered for adults, youth programs include lessons on independent living, recreation and leisure skills, career education exposure, and self-determination development.
If you'd like to learn more about Vista Center, including donation information or volunteer opportunities, visit . 
History on the 1% for Good Program
The  originated in the Santa Cruz Sereno Group office out of a desire to help contribute to worthwhile community causes through philanthropic donations. The program has since extended to other Sereno Group branches and offices in the Bay Area, resulting in a joint effort to support and contribute to local communities. Each office independently decides which local organization they will donate 1% of quarterly commissions to, allowing them to find a worthy local cause and donate where it's needed the most.
Being your trusted advisor is a privilege. That's why I do business in person from start to finish.
1108 Mission Street, Santa Cruz, CA 95060