1% For Good – Homeless Garden Project
During each quarter of the year, Sereno Group's Coastal Offices in Santa Cruz and Aptos choose two recipients to receive a grant from Sereno's 1% for Good Charitable Foundation. Each agent has the opportunity to donate 1% of their commissions to the 1% for Good Program which means that it is 100% agent funded. Since 2012, Sereno agents across the Bay Area have donated over $2.8 million to over 193 local organizations!
I'm excited to announce the first recipient for the 1% For Good grant in 2020 is the Homeless Garden Project. This non-profit works to provide job training, transitional employment, and support services to people who are experiencing homelessness.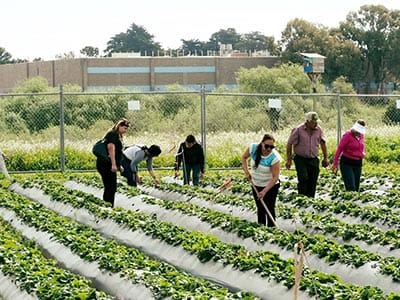 The Homeless Garden Project helps close the gap between homelessness and joblessness by teaching their trainees basic life skills required for employment, teaching other marketable skills, and creating an involved and positive social community between them, volunteers, interns, and staff. They also run numerous programs to further their impact. They include:
Women's Organic Flower Enterprise teaches trainees how to dry herbs and flowers, create arrangements as well as sellable gift products that are sold year-round in their downtown Santa Cruz and Capitola Village shops.
Community Supported Agriculture (CSA) is a long-standing farming model where consumers purchase a share of the crop at the beginning of the growing season and then pick up the harvest weekly.
Cultivating Community is an educational program that is open to anyone in the community who wants to learn more about sustainable agricultural techniques and environmental issues.
Connecting with Community is supported by the Homeless Garden Project's social work interns. They directly support the trainees in their success by participating in the Homeless Garden Project. The interns also address health care, legal, transportation, and living needs while also helping and encouraging the trainees with short and long-term goals.
Get Involved
If you'd like to get involved with the Homeless Garden Project here are a few ways to do that:
Volunteer Whether you'd like to volunteer weekly in the fields or want to help at special events volunteering your time, energy and skills is a very valued way to get involved with the Homeless Garden Project..
Shop to Support If you're like most Santa Cruz locals you enjoy that we live in an agriculturally rich area where local and organic produce is abundant. Purchasing veggies or other products from the Homeless Garden Project is a great way to support their mission. There are numerous places to purchase from them throughout the county.
Donate The Homeless Garden Project is reliant on generous donations from the community. If you'd like to give a monetary gift you can do so by clicking
here.
History on the 1% for Good Program
The 1% for Good program originated in the Santa Cruz Sereno Group office out of a desire to help contribute to worthwhile community causes through philanthropic donations. The program has since extended to other Sereno Group branches and offices in the Bay Area, resulting in a joint effort to support and contribute to local communities. Each office independently decides which local organization they will donate 1% of quarterly commissions to, allowing them to find a worthy local cause and donate where it's needed the most.
Being your trusted advisor is a privilege. That's why I do business in person from start to finish.
1108 Mission Street, Santa Cruz, CA 95060